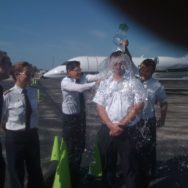 Coming from Brisbane, Australia I conducted a worldwide search of flight
schools and decided upon Florida Aviation Academy to train with. The school
offered a program that best suited my requirements; value for money,
concentrated timeframes, with an eye for safety and development of
"professional" pilots. Additional support available from fellow students,
instructors, and school management was unexpected and being a long way from
home it is great to have.
After ten flight days of training, 15 training flights, and 24.3 hours time
in the aircraft I completed my first solo flight. Another number I can add
is the 4 litres of water I was covered with after getting back to the
ground.
While this is a small step in the journey, it is a huge leap in fulfilling
my lifelong dream of becoming a pilot.
Jason Devine