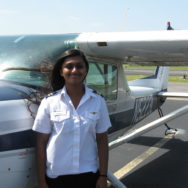 Congratualations to Shama!  She passed her check ride today and earned her Private Pilot license at Florida Aviation Academy – and she did it in just 4 weeks.
It takes motivation and perserverence, but you can learn to fly  in about 4 weeks with the accelerated Private Pilot License course.
Shama says she will be back to do her instrument rating, and we're looking forward to having her back!  See you soon Shama!