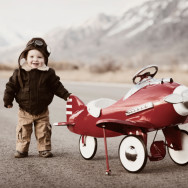 The Captain of the Boeing 707 boomed out over the speakers "bring the children to the cockpit".  I was 5 or 6 years old, and I made my way up the row to the beckoning flight attendant who was standing outside this door that led to where the pilots were. When my turn came and I walked through – I was mesmerized. I only remember the lights and the buttons and switches. I could not even imagine how anyone could remember what it all meant. It was night and I was in little boy heaven. I don't remember talking or even what was said but when I walked back to my seat I thought of nothing else for the next 20 years.
Little did I know that my life had changed from that point forward. I wanted to be a pilot. It was clear to me, and there was never any doubt. My destiny had been mapped out.
Dreams have a way of materializing sometimes. Most people have thought about what it must be like to learn to fly. If you want to know then just talk to a pilot. Pilots can't wait to tell you what it's like. The day your instructor says you are ready to be alone for your first solo flight is a day no one ever forgets. I remember every second of mine. I waved to Mr Pappi and I taxied to the end of the runway. The controller told me I was cleared for takeoff. I throttled up and the plane started rolling. I did what I was trained to do and at the right speed I pulled back and I left the ground. I wondered if they could hear my roars in the tower and on the ground. I was flying. On my own. It took 18 years from my first time in a cockpit and now this. No more dreaming. I did it and so can anyone. I look back at it now and see it through the eyes of an airline captain. The Airbus 300, Boeing 747 and now the McDonnell Douglas MD-11 are three of the aircraft in which I am rated.
Living the dream
Captain Jack Fitzgerald
Md-11 Captain
Chief Instructor
Founder of Florida Aviation Academy