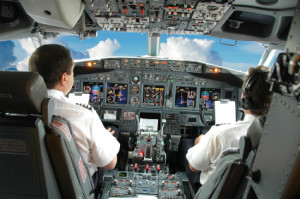 Have you always dreamed of a career as an airline pilot?  If so, Florida Aviation Academy can help you achieve your dream with a flight training program that will take you from zero hours to the right seat of an Airbus A320 or a Boeing 737 FAST!
With the demand for pilots skyrocketing, now is the time to train to fly for an airline.  This "Airline First Officer" course has been especially designed by our Chief Instructor, Jack Fitzgerald, who has more than 25 years in the aviation industry.
Professional Airline Pilot Training Program
This unique program includes your Private Pilot, Instrument, Time Building, Commercial Single and Multi-Engine Instrument Certificates,  and Jet Transition
250 HOURS TOTAL FLIGHT TIME
30 HOURS MULTI-ENGINE
JET TRANSITION COURSE
24 HOURS IN A LEVEL 4 ADVANCED AIRBUS A320 OR BOEING B737 SIMULATOR
Call or
email
us for more details
*Our Airline and jet transition training programs are FAA Part 142 approved.
This training is provided by a partnership between Florida Aviation Academy and Aerostar.