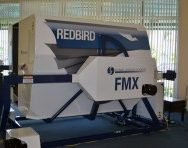 Redbird Flight Simulations of Austin, Texas completed the final assembly of our new Redbird FMX flight simulator Wednesday at Florida Aviation Academy.  The full motion simulator is an Advanced Aviation Training Device (AATD) that offers student pilots the opportunity to learn to fly in a safe and realistic environment that is both more cost effective and efficient.
The Red Bird Simulator provides the most realistic, real time, full motion life like experience,  from taxi to take off to approaches and maneuvers. With the traditional Cessna 172 instrumentation, the Florida Aviation Academy simulator also has the Garmin 430/530 GPS navigation systems and the all encompassing G1000  glass cockpit configuration. The multi- engine setup has already proven over the past 3 days to be an invaluable multi-engine training tool.
We heard about Red Bird's program of 30 hours in the Red Bird and 5 hours in the airplane for a private pilot, and we didn't believe it could be possible until we used it ourselves. WOW!