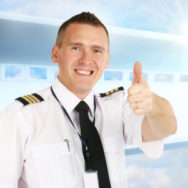 All of the major news outlets are reporting that the looming commercial pilot shortage is raising safety concerns.   Aviation industry forecasts predict a need for nearly half a million new airline pilots worldwide over the next 20 years as airlines expand their fleets.  Concerns have been raised that safety may suffer if airlines are forced to hire lower caliber pilots as they struggle to fill slots.  Airlines will be looking for pilots who have been well trained through programs such as Florida Aviation Academy's Commercial Pilot Training Course.
The rising global demand for airline pilots has raised concern among industry and government officials that there will be a global and a domestic pilot shortage in the very near future.  "In many regions of the world, a pilot shortage is already here," the Boeing forecast said. "Asia Pacific in particular is experiencing delays and operational interruptions due to pilot scheduling constraints."  http://www.businessweek.com/ap/2012-07-13/safety-concerns-raised-by-possible-pilot-shortage
Now is the time to start training for a rewarding career in aviation.  The outlook for commercial pilots has never been better.