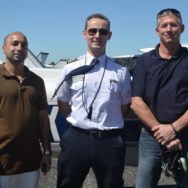 Did you hear the one about the Irishman, the Scotsman and the Puerto Rican???  Florida Aviation Academy had the pleasure of hosting two friends of the flight school from New York.  Neal (the Irishman), Anthony (the Puerto Rican) and Flight Instructor Andrew (the Scotsman) went flying in a Cessna 172 to see more of South Florida.
Neal, already a Private Pilot, was put through the paces by Andrew and excelled despite the challenges of a gusty day.  It was Anthony's first time in a single engine aircraft, and he appeared to be loving the experience.
After a full morning of fun and flying, they couldn't get enough of the chicken wings….