Have you ever wondered what it would be like to learn to fly? Why not try an introductory flight lesson at Florida Aviation Academy in a full motion flight simulator?  This is one of the most exciting flights you'll ever take!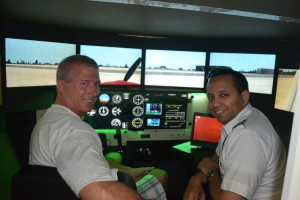 Introductory Flight Lesson
Introduction to basic taxiing and flying skills
Pre-flight actual airplane
Startup, taxi and take-off in Full Motion Flight Simulator
Basic airman skills, maneuvers and return to airport
Approach and attempt first landing
Taxi back for second take-off and landing in traffic pattern
Post flight briefing
Certificate of your simulated flight
For the low cost of $399, our introductory flight lessons are extremely popular with flight students of all ages*.  Prospective pilots get a taste of how exciting their pilot training will be.  The introductory flight lesson also makes a great gift.  Contact Florida Aviation Academy today for more information about taking your Introductory Flight Lesson!
Request an Introductory Flight Lesson
*Minimum age for Introductory Flight Lesson:  14 years old