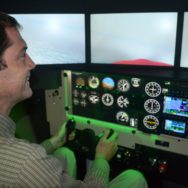 Many people are interested in trying out our Redbird FMX full motion flight simulator, and they are never disappointed with the experience. We do hear things like the Simulator is a bit more sensitive than the actual aircraft, but overall the consensus is that it offers a realistic "flight".
You can fly in or out of nearly any airport in the world, so we have pilots who come from all over the globe to practice approaches at the airports to which they fly most frequently, or to those that they are planning to fly. With full wrap-around graphics and full motion that is realistic enough to make some pilots "air sick" you will get caught up enough in the experience to actually start believing that you are flying.
The flight simulator is an excellent tool for initial training, instrument training or recurrency training, as well as superb for emergency procedures.  You can practice safe procedures for a low-altitude engine failure on climbout, or any other maneuver.   The benefit of the pause button makes it much better (and safer) than the actual aircraft for training because the Instructor can freeze the flight at any time to talk about the maneuver or procedure or the pilot's technique.  This can all be accomplished with a Cessna 172 configuration with controls and instruments including the Garmin 430/530 or G1000, or with a multi-engine configuration.