Florida Aviation Academy is pleased to bring advanced simulation flight training to Southeast Florida. Florida Aviation Academy is committed to safe training and state of the art technology which is why we invested in the Redbird Flight Simulator FMX, an FAA approved Advanced Aviation Training Device.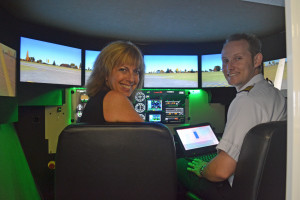 Our simulator is a state of the art, full-motion, feature-rich Advanced Aviation Training Device (AATD).  It includes amazing wrap-around visuals, a fully enclosed cockpit, scenario-based training and an electric motion platform.  It offers a level of realism that is simply unavailable in other training devices you may encounter at other schools.
We offer advanced flight training with our Redbird FMX full motion simulator in a variety of aircraft. Pilots can now train in a new G1000 Glass Cockpit C172, a C172 Six-Pack configuration with G430/530, or a Beechcraft Duchess – BE-76 with G430/530, for advanced multi engine training.
Using a simulator for a portion of your training as a student pilot, for adding instrument privileges to your certificate, or for refining instrument approaches and practicing emergency procedures will not only make you a more proficient pilot but a safer pilot. Simulator training also allows you to train more often while saving money in the process. This is definitely a winning combination for pilots at any level.
The experience that we have gained training our students in Advanced Aviation Training Devices like the Redbird Flight Simulator™ has proven time and again that a flight simulator is the best place to teach and practice the skills and procedures required in the airplane. Once perfected in the simulator we have seen those skills and procedures successfully demonstrated and reinforced in the actual aircraft.
It has been our goal to establish a simulator training capability at the Pompano Beach Air Park serving all pilots in the Fort Lauderdale, Miami, West Palm Beach and entire Southeast Florida area, and we look forward to sharing this excellent flight simulator with you.
WHY SIMULATOR TRAINING IS INTEGRATED INTO AVIATION TRAINING
The realism of the simulator experience offers much more practical training on the ground than would be possible in the sky.  The instructor is able to pause and restart the missions, allowing a richer learning environment, as well as the opportunity to challenge the student with more complex missions.  There simply is no better way to get the same quality of training in an airplane that is possible in a simulator.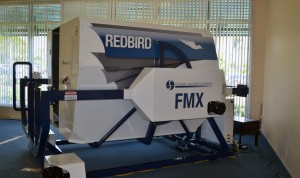 Virtually all jet aircraft training is done in similar simulators.  There are very good reasons why the major airlines use simulators when training their pilots and when conducting other pilot checks.  The simulator provides an amazingly life-like flying experience that enables the pilot to become a much better and safer pilot overall.
We have nearly every airport in the world in our database, so if you are preparing to fly into unfamiliar territory or you are a commercial pilot preparing for an airline interview, you can first practice profiles in the simulator.