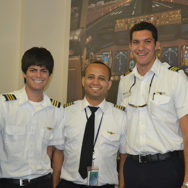 Jorge and Michael completed their Commercial Pilot certification with flying colors!  These flight students started their programs with zero hours, obtaining their private pilot licenses and instrument ratings before continuing on to earn their Commercial Pilot licenses.  Now they are on track to start a great career in aviation as commercial airline pilots.
The flight training courses here at Florida Aviation Academy have been especially developed as accelerated programs, allowing students to complete their private pilot license, instrument rating and commercial pilot certification in as little as 16 weeks with no prior flying experience or aviation knowledge.  If you have dreamed of a career as a pilot, you can do what Jorge and Michael have accomplished and be on your way to flying around the world and being paid for it!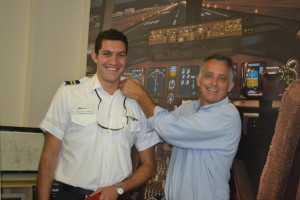 Michael gets his stripes from Chief Instructor Captain Jack Fitzgerald.  Congratulations Michael!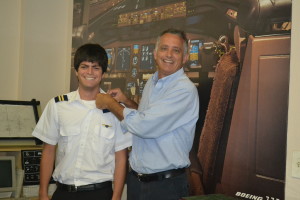 Jorge is given his stripes from our Chief Instructor.  Congratulations Jorge!