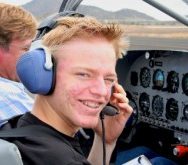 Florida Aviation Academy will offer an Aviator Day Camp for Flight Explorers ages 9 – 12 and 13-17.  The curriculum for the camps have been especially developed by expert flight instructors, and offer age appropriate activities, tours and flights in an advanced flight simulator to introduce the technology of today to the budding aviators of tomorrow.  The 2 NEW enrichment courses, Flight Explorers Day Camp for kids ages 9-12 and the Aviator Day Camp for kids ages 13-17 are designed as an introduction to the wonderful world of aviation.  The activities and instruction have been constructed to engage and challenge each age group and include, but not limited to, activities such as:
Behind the scenes airport tour
Aerodynamics projects
Fun "flying" competitions
Takeoff and landing procedures
Flight planning
Air Traffic Control communications
FLIGHTS in an advanced FLIGHT SIMULATOR
Click here for more information about our Aviator Day Camps.
Call us at 954-788-3887 for more information, and to schedule.  Space is limited.